Read Time:
1 Minute, 32 Second
Returning after almost ten years since her last visit, Marion Lazan, who survived over a year in the Bergen Belsen concentration camp during World War 2, spoke to a filled auditorium of attentive students from 8th through 12th grade about her story of survival.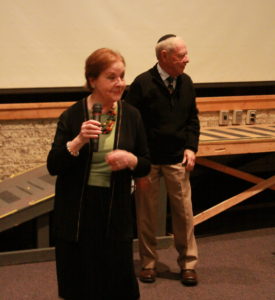 The hour long assembly remained captivating for the large majority of the students.  Lazan's incredible feat of finishing in the top ten for grades in her American high school, after learning a new language, adjusting to life in America, and surviving numerous horrors throughout the Holocaust, drew loud applause from the student body. Her remarkable 64 years of marriage to her husband, also in attendance, received applause as well.
The first half-hour covered mostly her experiences leading up to and within the concentration camp, often mixing in enough imagery to remind students of the severity of what they saw.
The second half moved into her life in "the blessed United States of America" and mixed lighter stories of eating potato chips and mayonnaise alongside advice such as  "check in with your moms and dads – you owe it to them. Right? Right." and cautioning students to use "wonderful technology and social media" for good. 
Students also appreciated Lazan's sense of humor and warmth, as she playfully echoed her husband's reminders about her facebook page and her website, fourperfectpebbles.com