Read Time:
1 Minute, 29 Second
Mr. Dave Thomas was announced as the new assistant principal for both the middle school and the high school according to press release from the district on Monday, February 6th.
As for the graduating class of 2017, many affectionately recall Thomas first coming to Avonworth as their 4th grade math and science teacher in 2008. He was also the defensive line coach for the high school football team this past year. He remained in those positions until just Monday when he was selected for the position. Thomas holds a principal's certificate from Robert Morris University and earned his Masters of Teaching (MAT) at the University of Pittsburgh.
AHS students are clearly overjoyed to see a familiar face filling the Assistant Principal spot. Sophomore Patrick Gannon commented "I think his personality from coaching and teaching will reflect how he moves up to the principal level, and I can't wait for him to take over." Even students who didn't have him for class are excited to see him step up: "I never had him as a teacher but I think he will do a great job as assistant principal," said Freshman Sarah McAdams.
Thomas himself took to Twitter to express his eagerness:
Starting this year, Mr. Thomas will officially take over the duties towards the end of February, allowing Ms. Keera Dwulit, who held both administrative positions since former principal Emily Clare's departure in December, to fully focus on her new position.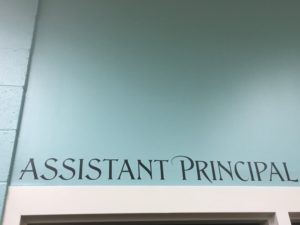 Principal Dwulit introduced Mr. Thomas officially as the new Assistant Principal during morning announcements on Monday, February 27th.