Read Time:
1 Minute, 45 Second
Avenged Sevenfold goes an extra step towards progressive metal. This song is the 8th track off of their 7th studio album The Stage. It's entitled "Higher" and it's related to a fail NASA launch test. It's mainly sung, however, about the aftermath. The first verse, to me, best explains the lyrical topic in specifics.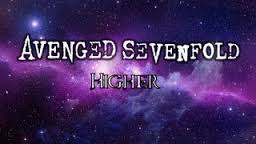 "It haunts to remember
All the memories of that day
Pre-flight demonstration
Led to desperate voices fueled by flames
Now I'm out here waiting
Hoping you would send a sign
Came a million miles
And the earth grows small as I lovingly leave it behind"
With the songwriting credits given equally to all of the current band members of Avenged Sevenfold, this track starts with an intro contains a creepy spacy sound. Then M. Shadows sings the main words of the intro chorus, with melodic backing vocals from some of the other bandmates. Along with a piano harmony being played. Then the heavy guitars come in utilizing fast palm muted chords in the verses. Then in the rest of the choruses, Zacky plays a melodic, distorted rhythm riff, while Synyster Gates goes into a melodic lead guitar section.
By the time the guitar solo starts, it is very noticeable that part of it is parallel to the vocal harmonies of the verses. An all female choir then sings in some sections of the outro while a lighter sounding instrumental section is played out. Which is where the extra progressive metal step comes into the picture.  M. Shadows goes into lighter singing as well. This song is just one more feather in the cap of Avenged Sevenfold, because it is another piece filled with insane compositions and arrangements.