Read Time:
2 Minute, 55 Second
Homeless veterans often fight at wars or help out overseas, but some come back home and lose almost everything. Although they are the ones fighting for our freedoms and lives, they are the ones who tend to struggle afterward. This is the reason multiple causes, such as the Geofilter contest, are doing their best to help by donating to Stand Down.
Stand Down is a national organization that provides support and care for homeless veterans. They have annual events in multiple cities across the United States, including Pittsburgh. Each event is a day-long service fair, including free meals, and access to dozens of health and community service providers. Stand Down Pittsburgh has planned this year's event to be on November 18th at Stage AE. Showed below is a flyer that Stand Down Pittsburgh has created for this event.
A group of freshman, Noah Osborn, Gillian Tokar, and Michael Frank are hosting a fundraiser to benefit Stand Down. To participate in the fundraiser, students have to donate money to donation bins in each English classroom (7th-12th grade). A geofilter is a Snapchat filter that only works in a set location. The winning grade will get their own Geofilter that works only in a certain location. Avonworth already has its own Geofilter but the winning class gets a specialized one.
Flyers have been posted all over the school to advertise the fundraiser.
Students and teachers alike had their opinions on this cause. Mrs. Maisner stated why she felt it was a good cause: "I think there's a lot of need in Pittsburgh for a variety of reasons. This is just one of those, but I think we have a different amount of needs to go beyond veterans, but these are just as powerful."
Brandon Witherell, a senior, also stated his point of view: "I think it's great that people are doing good for homeless people that can't afford clothes and stuff like that."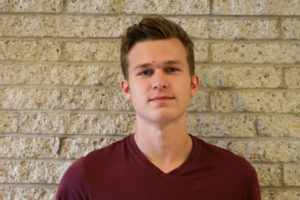 Danica Raich, a freshman, gave her thoughts: "I think that it's good that our class is getting involved with charity,"
Keyaira Cameron, also a freshman, stated why she thinks it's a good idea to do this project: "I think it's nice, and I think it's something that's important to help at a young age and to do as much as we can. Also, to be educated on how to help others, especially people fighting for us every day."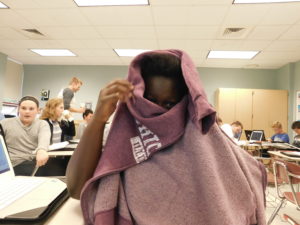 The Geofilter is not the only project to raise money for Stand Down Pittsburgh. Many other projects are being put into action right now. Although there are so many projects, it is mostly condensed to the 9th-grade classes. This means that the word about Stand Down Pittsburgh is not generally known throughout the school. Keyaira Cameron spoke about this by saying, "I think that it's very important to complete this project and to do it well. It's important because it helps spread the word of how to help people, not just veterans, who are in need. I also find it quite concerning that many people don't know how to help, and I think this project is a great way to spread the word."