Read Time:
2 Minute, 27 Second
On September 12th, the 9th Grade Academy embarked on a journey to experience LEAD and team building exercises and thrilling adventures at Camp Guyasuta, an annual field trip. Students split into smaller groups to learn how to communicate better with their peers. They did activities such as trust falls, guiding each other across obstacles, and high ropes courses. Almost everyone enjoyed the events at Camp Guyasuta.
There were two parts to Camp Guyasuta: the high and low ropes course. Maggie Goetz was surprised by how challenging the low rope courses were: "I liked how hard the obstacles and challenges were. They were not all about physical strength, it was mainly about thinking things through." Meghan Fissore describes one of the events she participated in as "…we worked on different team building stuff. We played this game where we had to walk across 'lava'. So we learned how one person or a few use leadership. We had to climb across a rope and balance on a platform."
Accounting for the beginning of the trip, there were many trust building activities that consisted throughout the low ropes course. Multiple versions of trying to balance your whole team onto a wooden platform, getting through ropes and tires without touching said items, having numerous setbacks, and walking along tightropes without a guide alongside were the main activities.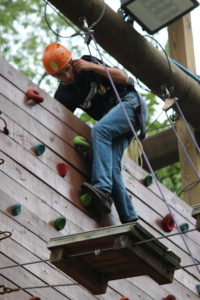 On the other hand, the students were able to participate in many physical and thrilling activities in the high ropes course. The freefall, a ten foot drop of the ledge of the tall tower, and ziplining had the freshmen's hearts racing. If they were looking for more of a challenge, there was an opportunity to walk across a log high above the ground or climb up tall ladders to trek across a pieced apart bridge.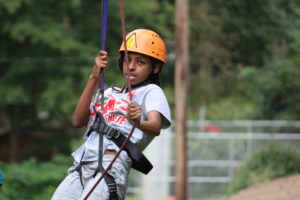 Despite the fact that most students enjoyed the trip to Guyasuta, there were a few complaints. Nathan Vietmeier said that, "It was a little bit fun sometimes. Some things were not fun." He further explained that because of the long waits, he did not do anything on the high ropes course, besides the zip line and freefall.
The class of 2022 added another successful field trip to the Guyasuta books.
Written by: Lois Bennett, Ellie Cepeda, Ella Galbraith, and Olivia Holloway
Pictures taken by: Mr. Haskins