Read Time:
1 Minute, 8 Second
What if you had to get your water from a truck and you could only get a small amount once a day?
As the Journalism 1 class worked with National Geographic's Out of Eden Project, they learned a startling statistic about how many people are already living this way, and how they will be out of water in just two years.
"In India, a country of 1.3 billion people, fully half the population lives in a water crisis. More than 20 cities—Delhi, Bangalore, and Hyderabad among them—will gulp their entire aquifers dry within the next two years." wrote Paul Salopek in his latest post for the Out of Eden Project.
Here around school, the class split up to capture images showing how many ways water is simply available around the high school. Students have multiple water fountains to choose from, including the occasional water fountain within a classroom, a courtyard with a pond for viewing, and showers across from the gymnasium.
Pictures are below: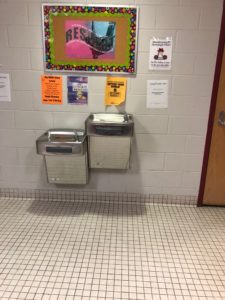 For more about the current water crisis in India and the Out of Eden Project, click here.