Read Time:
5 Minute, 2 Second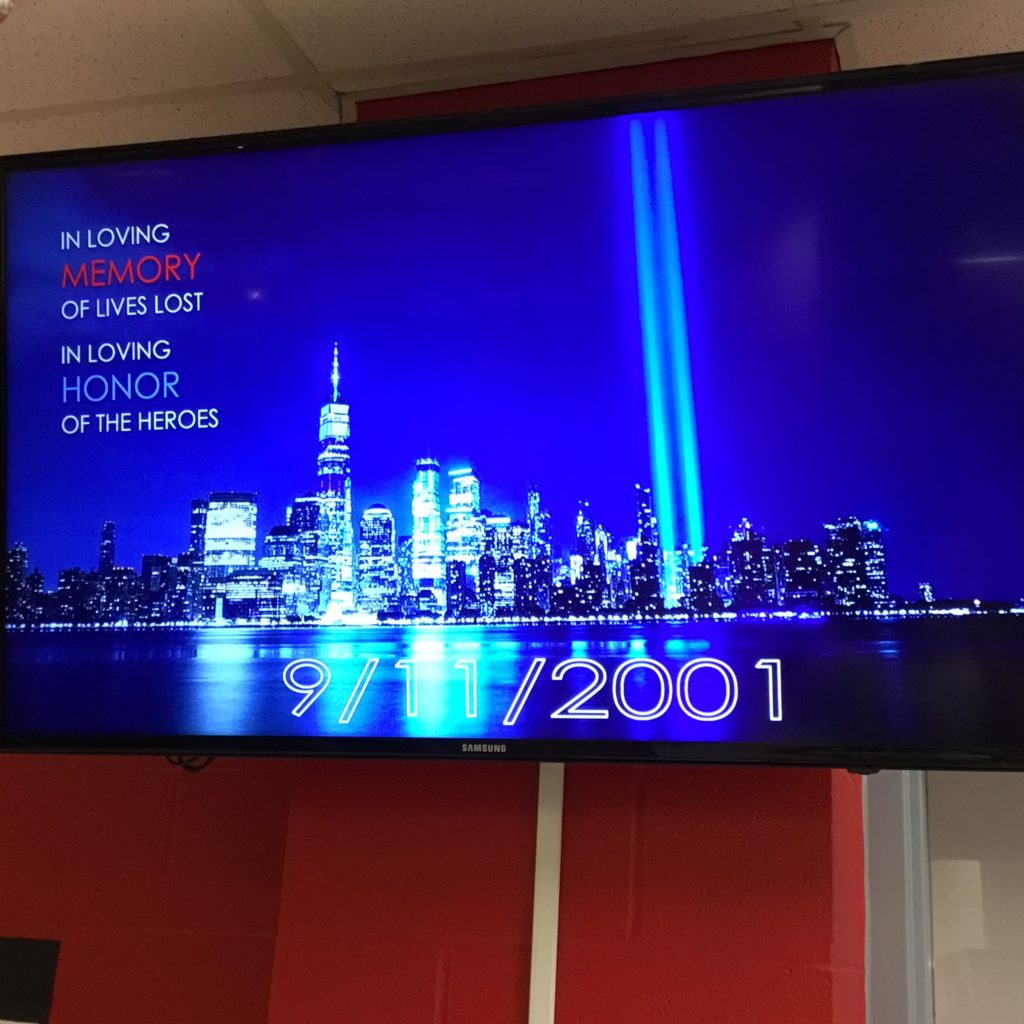 A moment of silence spread through the school at 10:15 this morning in honor of the tragic events of September 11th, 2001.  Beyond that, the high school, already quiet from the reduced amount of students in 2020's hybrid model of schooling, was generally going about the most normal routine of a very abnormal year. 
One noticeable change was the continuation of a three year old tradition, started by Principal Dwulit who served in the Armed Forces, continued but with only the participation of the faculty. Teachers were invited to place flags outside the administration office during the hours before live classes started. Last year, the flags spelled out "honor." This year, the message spelled "hope".  
"I think hope is what we need the most of right now, and so I think the word not only speaks to 9/11, but what we need as a school and what we need as a nation. The word just seemed to make sense," said Principal Dwulit.
Following in Dwulit's path is recent graduate Maya Berg, who is attending ROTC at Pitt.
"The biggest impact it's [9/11] had on my life is my decision to join the military in a time of war. I'm studying Arabic and middle eastern studies as minors to better prepare me for our current world. Having not been alive for the actual attacks, I wasn't exactly directly affected as some older people but it was a major part of my decision to serve. I feel like our practice of honoring the fallen is more than appropriate given the circumstance. The 9/11 memorial in NYC and the Flight 93 memorial in Shanksville are both beautiful tributes. Avonworth in particular always did an exemplary job of remembering and honoring the heroes and the fallen. In particular, at Avonworth, Mr. Aguiar and Mrs. Frauenholz both gave complimentary lessons to the seniors while I was there that did a great job of demonstrating the devastation caused by the attacks."
Back in the building , student reaction overall was not too different from previous days here at school. Brandon Sapolsky, a 9th grader, said that he wasn't quite sure if the commemoration was enough, but at the same time realized that it is tough to have an adequate ceremony with current events, namely the COVID19 outbreak. However, Jackson Shields, also a 9th grader, said that he thinks that because of how long ago this happened, and the fact that he did not personally experience this tragedy, the ceremony that happened today was ample for the current conditions that we are living in. Additionally, students said that although tonight may feel a little different, it will most likely feel like any other Friday, and they will be looking forward to the weekend. Freshman Luke Zelinko said, "It will probably feel like any other Friday when I get home". 
Not all students throughout the school held the same opinion on the day, though. Junior Halle Archey said, "Yes 9/11 is tragic and maybe I'm being insensitive but why should we continue to trip over a situation from 19 years ago simply because America was the victim? People are being raped and killed in ICE custody, our president is supporting the concentration camps in China, we made Hiroshima and Nagasaki inhabitable with radiation, but we're just supposed to get over those things? Because we weren't the victim? I'm not going to pretend that racism, police brutality, etc AREN'T happening simply because you want to feel sorry for America for a day because someone reciprocated our terror. So yeah it's tragic but I'm still going to hold my own opinions and voice justice, not going to be silenced because of an almost 20 year old memorial."
For the A-K students at home, as well as the virtual students who will not reenter the school until at earliest the end of October, the reaction was about acknowledging the tragedy of what happened 19 years ago.  Around 11:30 AM, social media accounts started to trend towards memorials and posts about how important it is to remember the events of the day. 
The following is the e-mail sent to the student body from Principal Dwulit:
Good morning Avonworth families,

 

Today, 19 years ago…the world changed as we knew it.  

Students – most of you were not alive so you do not have the vivid memories many of us share.  But you can learn from those that did. Our stories are woven together as the fabric of this United States of America. Never forget moments and days like these. 

We honor the thousands of lives lost today. We also remember those that ran toward the devastation in hopes of providing assistance, while thousands fled to safety.  Many of our Avonworth family serve or have served and our teachers and staff have children serving our nation right now.  You know that sacrifice well and my thoughts are gratitude are with you. 

We will be joining together in a moment of silence today at school at 10:15am. 

Students, your perseverance and strength through these challenging times gives us all hope. Make today count. 

 

Parents…later today I will be sending an update on athletics, Open House next week and when to expect a survey to gauge our next actions forward and improvements we need to make. 
Thank you, 
Keera Dwulit, AHS Principal