Read Time:
2 Minute, 33 Second
Throughout this year, many of us have turned to playing games to entertain ourselves while at home. Many popular video games this year have been used as an escape from reality, and a much-needed one. Whether missing socialization, or simply looking for something to do, many people have turned to gaming to interest them this year. Many who weren't gamers before have turned to it this year, and games have exploded in popularity.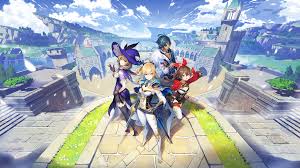 Apple and Google Play's Game of the Year: Genshin Impact
A widely downloaded game, Genshin Impact is a fantasy RPG game. The game makes more than $6 million a day, with a larger user base. The game is visually impressive and serves as a get-away from the stress in our lives. The game itself is entirely free, and has a large variety of playable characters to interact with.
Quarantine Trends: Among Us
Among Us has been one of the staples of 2020. It is a favorite among our generation, and one of the most downloaded and streamed this year. The game is similar to mafia, but in a spaceship setting with crewmates trying to uncover the imposter. 
Quarantine Trends: Animal Crossing
Many people find themselves wishing for an island vacation, and Animal Crossing has brought exactly that. The game is consistently unique, as it involves no battles or challenges. It is simply a game to relax and escape in. Players spend time decorating, doing relaxing tasks, and visiting neighbors.
Community Support: Fall Guys
This game has been hugely successful, especially in streaming. It is a platformer game, in which one competes with other players, highly inspired by shows like Wipeout. It has received many awards for it's cutely styled visuals and engaging gameplay.
Recent Releases: Cyberpunk 2077
A highly hyped game, Cyberpunk 2077 is another open-world RPG. The game is played with a variety of skills like hacking, machinery use, and combat, and features character customization. The game has come out recently but has been long-awaited.
Student Favorites: What games have you played the most this year?
Sophomore Anna Boothby: The game I probably played the most this year was the new Animal Crossing. It came out in March, so I think a lot of people appreciated playing a game that let them have experiences that covid took from them, like spending time in "nature," being able to make progress when their real-life felt stuck, and having a sense of normalcy. That being said it got boring after a few months and I started playing a ton of Among Us like most people. I don't think it has as much meaning to people as Animal Crossing, but it became a fun thing to do on video calls with friends.
Sophomore Ella Antkiewicz: I've played quite a bit of Among Us and Minecraft. I've also been working my way through Undertale, but Undertale isn't really a popular game right now, it's more of just me playing it through and enjoying it for the first time.