Read Time:
2 Minute, 20 Second
2021 Spirit Week gave students the option to participate in daily themes, with one day at home (like Group A or B was for 2020 Spirit Week) and the rest in person.
Monday featured pajama day. Although the students at Avonworth had Monday off due to Columbus Day, students could still participate by sending in pictures of themselves comfortable in their pajamas at home. Photos were posted on Student Council's Instagram page, but since this was a day off, many students relaxing at home might have participated without knowing.
Tuesday brought back the past with Decades Day.  The 70's through the early 2k days were represented across the school.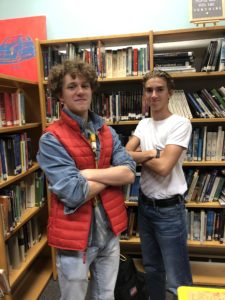 Mr. Tuffiash repurposed a few props from when he played in teacher bands for the Children's Hospital Auction in the 2010's at AHS…and showed off his own late 2k stylings with tributes to Justin Beiber's hairstylings and Ye's shutter shades. He also wore a classic 2008 Football Section Champs shirt, along with baggy jeans, vans throwback shoes, and a Wii remote just for style.
Wednesday gave each grade the opportunity to compete for the most school spirit in color wars. Each grade had a corresponding color to represent their year.
Thursday's theme showed how creative Avonworth High School students by letting them think of wacky ways to carry their school books around.
Friday was bright with color as kids come to school in their neon fits.
Spirit Week 2021 was a success as many students participated with much enthusiasm and fun.