Read Time:
2 Minute, 46 Second
After wrapping up a 16 win regular season and a deep run in WPIAL playoffs, it's safe to say that Avonworth's girls volleyball team not only had an excellent season, but some may call it historic.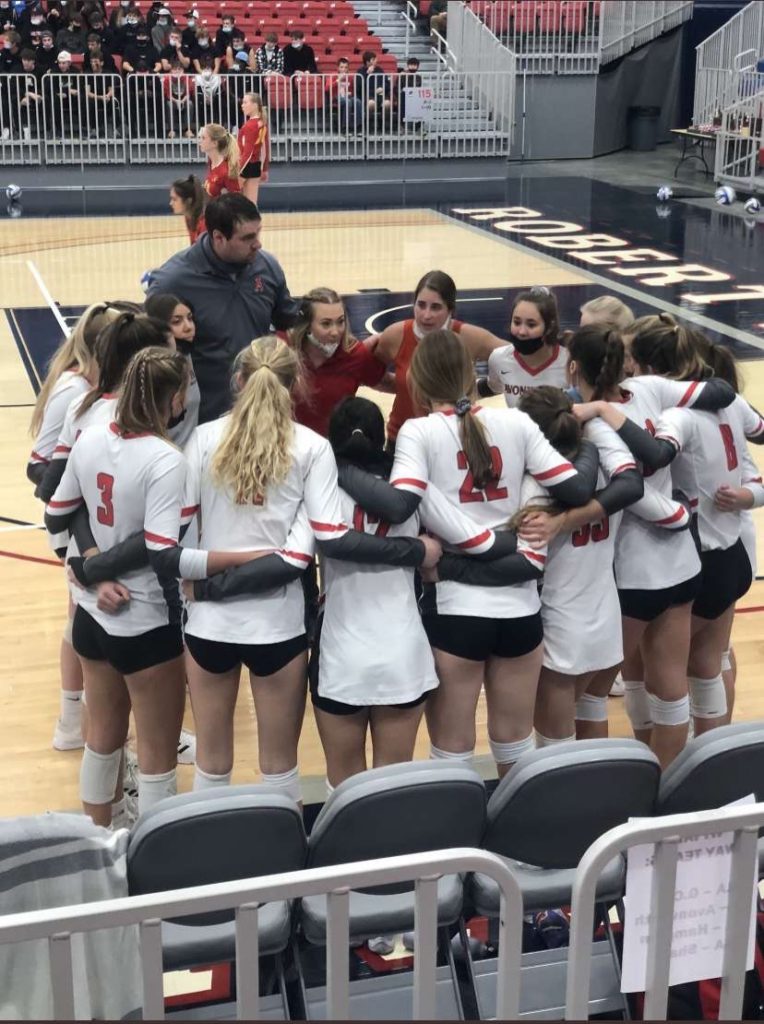 First Team:
Maggie Colenbrander Avonworth 3 5-9 Sr. OH
Sophie Culley Avonworth 11 6-0 Jr. MH
Abbi Holjes Avonworth 5 5-4 Sr. S 
Second Team 
Nora Kate Gavin Avonworth 8 5-9 Soph. OH
Maggie Goetz Avonworth 32 5-10 Sr. MH 
Third Team
Sam Blose Avonworth 2 5-4 Jr. DS
Mary Gannon Avonworth 23 5-6 Jr. DS 
Victoria Huffmyer Avonworth 16 5-9 Soph. RH  
After a 16-3 regular season, the first playoff game on October 27th featured the #2-seeded Avonworth beating #15-seeded Ellwood City to advance onto the 2nd round. In the 2nd round, Avonworth fell into a hole against #10 Shenango, but eventually came out with a 3-2 win.
This moved the 'Lopes onto the WPIAL semi-finals, where they played #3 Laurel. Hosted by North Allegheny High School,  Avonworth went on to win 3 straight sets after losing the first. With this victory, the 'Lopes would play the #1-seeded North Catholic in the WPIAL 2A championship. 
Avonworth won the first set, but then lost the next 3. Most notably, the first set was the first one that North Catholic had lost throughout the entire playoffs. Even though Avonworth couldn't pull through in the championship, they still moved on to the PIAA tournament.
 "It was huge and North Catholic are our rivals and I think those girls worked really hard, " said sophomore Kelly Kashaba, "The varsity players worked very hard and fought really hard." North Catholic eventually earned the 2A state championship, for perspective on the loss.
The general mood from the team seems to be that this disappointing loss had a silver lining. Sophomore Nora Kate Gavin said, "I would describe it as fun and exciting. We went to WPIALS and got to experience what it's like. Even though we didn't win, it was still fun to experience it."
The PIAA draw was equally difficult against the Philipsburg-Osceola Mounties, located a few hours northeast of Pittsburgh in Centre County. Similar to the North Catholic game, the Lady Lopes came out with intensity and success in the first set, pushing the 18-0 home team just five points from losing their first set. But in front of their active fan section, the Mounties regained momentum and eventually swept the Lady Lopes.
Click here for professional coverage on the match: https://www.theprogressnews.com/sports/philipsburg-osceola-sweeps-avonworth-in-first-round-of-piaas/article_1bd6afa9-2f35-53f9-b490-7b79041bd681.html?utm_campaign=blox&utm_source=twitter&utm_medium=social
"Overall it was a really fun experience with everyone, " said sophomore Layne Shinsky about her season, " and I'm so proud of all the players especially with how far we were able to make it. Although not coming out on top, it was a super great year." 
Additional reporting from Ben Barnes, Jacob Hanny, and Tyler Woodfill