Read Time:
3 Minute, 53 Second
Holiday styles, flannel shirts, and PJ's were the spirit day themes to end the 2021 calendar year at Avonworth High School. Student Council added a new experience, holiday movies screening in the auditorium, running from the start of LEAD at 8 AM until the end of Lunch 3 on Wednesday, December 22nd, 2021.
Fundraising continued on Tuesday with the Good Loven Mobile Cookie cart working it's way around the halls during LEAD.
Tuesday also marked Flannel Day, a newer tradition through the 2010's and early 2020's.
Wednesday finished off the short week with a new experience, Holiday movies in the auditorium, where students could sign up and attend if they had an OPEN MOD or permission from a teacher.
Since COVID started in March 2020, this was the first activity held in the auditorium open to the whole student body (if they chose).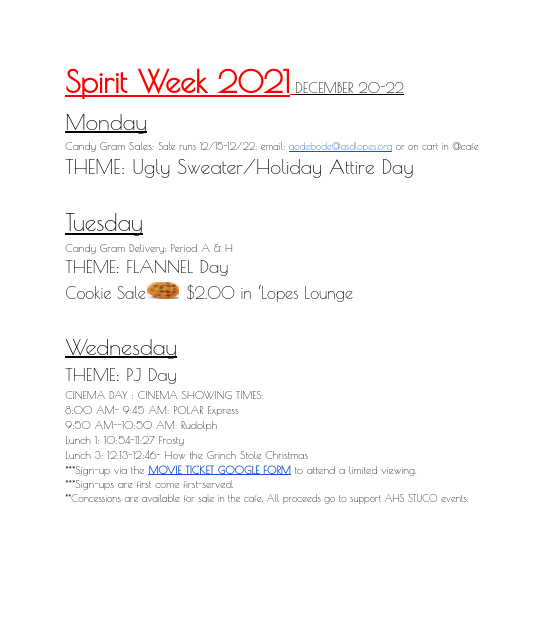 Photos and captions from various members of the Journalism 1 2021 class. 
By Mod F/G on Wednesday the 22nd, over 200 students were not in attendance at the high school. This was still hundreds more compared to December 2020, when rising COVID cases and no vaccines or FDA approved treatments existed for COVID-19, and the district kept all students learning virtually for the entire month.
Back to December 2021, students still in attendance (as well as participating staff and teachers) for afternoon classes remained cozy with PJ day being the final theme for this shortened week.
Students in the library participating in PJ day – IMG_2153[1]
Photos and captions from various members of the Journalism 1 2021 class.