Read Time:
2 Minute, 31 Second
On September 9th the horror film Barbarian had its United States release. This film was directed by Zach Cregger, a member of the comedy troupe group The Whitest Kids U' Know. This is his third film and first in the horror genre. As of September 12th, this film has broken even at the box office, making 10.5 million, the same as its budget. 
However, the film has been doing great with critics –  a 79 on Metacritic, a 93% on Rotten Tomatoes, and a 3.9/5 on Letterboxd. This movie has garnered praise for its shocking and weird horror. It is a movie hard to talk about without spoiling, especially when the best way to see it is knowing as little as possible. But seeing this in a theatre will leave the whole audience gasping and thinking "what did I just watch?"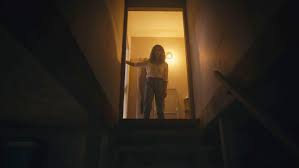 There are many aspects that will leave your audience gasping. One being the cinematography. Most of the movie takes place in dark halls with something bad bound to happen. And thanks to Cinematographer Zach Kuperstein it creates a level of suspense that will keep you on the edge of your seat. As the camera seems to slowly creep around like the characters, it makes you feel like you are with them.
 This movie does have some very funny moments due to a fantastic performance by Justin Long. His jokes feel perfectly timed to break some of the tension. However, a more serious performance from Georgina Campbell is one you won't forget. Her performance steals the show, as she is able to flow with the weird-out horror in a very believable way. Her character has good chemistry with the two supporting actors as well. Bill Skarsgård also does very well as the character Keith, an odd man with innocent intentions. His character has very great chemistry with Campbell's character. 
Another aspect that makes it better than most horror films is the sound. This is a pretty quiet movie, it has a small cast and a claustrophobic setting. So when there is a sound it sticks out. And thanks to the sound team it adds a lot of suspense and horror. Most notably the sound of a buzzing TV, which makes the whole scene even creepier.
I would definitely suggest watching this in a packed theater. it doesn't feel the same without it. This is one of the best experiences I have had at the theater in a while. The whole crowd inside Cinemark McCandless that night collectively gasped and sat there genuinely shocked at what we had witnessed. It is able to create something unique and fresh out of a subgenre of horror some people think is being done to death. It takes the aspects of a usual horror movie and puts its own touch on it, making the jumpscares way more impactful. It is a smart film that builds three different character arcs into one cohesive story. I would recommend this to any fan of the horror genre.