Read Time:
2 Minute, 21 Second
In 2022 there were many incredible highlights for our sports program. Overall this year, our teams excelled and achieved many goals that the athletes didn't even know were possible. Each team and individual worked so hard and challenged themselves and each other to be the best they could be. It wouldn't have been 2022 without these amazing accomplishments from the athletes (in no specific order):
1. Boy's Basketball Places 2nd in WPIAL 
The boy's basketball team had a great run in WPIALs and States. They played against Shady Side Academy in the finals, and although getting 2nd, they qualified for the State playoffs. Going into the state quarterfinals they had to face Aliquippa. They previously had played them twice in the regular season. Although the team lost they had an incredible season and run in both the WPIAL and PIAA State Playoffs.
2. Girl's Track & Field 
At the WPIAL championship last year the girls 4×8 got 4th place and qualified for states. The athletes on the 4×8 team included Maggie Colenbrander, Lindsey Hartle, Fiona Mahan, and Lydia Valeriano. Lydia also competed and succeed in the 800m and got 5th place. Lindsey was also able to get 7th place in 1600m.
3. Girl's Softball Wins the WPIAL and PIAA State Championship 
In the spring of 2022, the girl's softball team had the most success they have ever experienced. They went into WPIAL playoffs strong after getting 1st in their section. They played some tough teams but eventually won the championship against Deer Lakes. They then played for states as they made it to the championship which was held at Penn State University.  Winning the PIAA State Championship made history in Avonworth as they were the first team to collectively win a State Title. The final score was 7-2 against Lewisburg.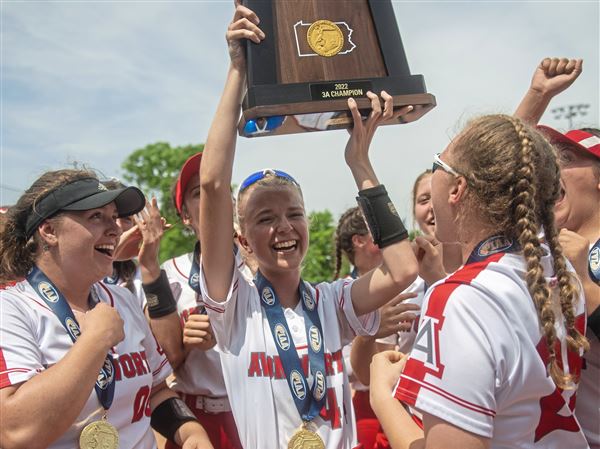 4. Girl's Soccer Wins the WPIAL 
The Girl's soccer team had a really successful season this year. After losing some seniors and placing 2nd in the state final last year, they were able to fight their way to the WPIAL Championship this year. Going into to playoffs, they were the 5th seed. In the semi-finals, they defeated the #1 seed North Catholic to advance to the finals against 2 seed Mount Pleasant. They won with a score of 2-1 and qualified for the State playoffs.
5. Football Places 2nd in WPIAL
The team had a very good season this year. They started off strong in the regular season with many wins. One memorable win was against North Catholic after losing to them in the WPIAL semi-finals the year prior. This year they were able to make it to the Championship against Belle Vernon. After an incredible battle, the team placed 2nd. Belle Vernon later went on to win the PIAA State Championship.