Read Time:
3 Minute, 29 Second
On Friday, May 26th, 2023, students in the Journalism 1 elective sampled a variety of foods you might see, but probably not buy, at Giant Eagle just down Camp Horne Road. As the Avonews Online staff worked on captions for the Awards Assembly, they experienced the good, the bad, and the odd of unique Pop Tarts and Lay's flavors, as well as Ja Morant-Aroos Dunkaroos and Mtn Dew Summer Flavor. Here's an overall summary with some glimpses of products and reactions mixed in.
Our first stop takes us to the realm of Pop Tarts with the Apple Jacks flavor. These cinnamon-infused pastries left us with mixed feelings. While they had a strong cinnamon taste and a hint of apple, the overall experience was slightly dry. We found them to be an okay choice, scoring a 6/10.

    2.Frosted Banana Bread Pop Tarts: Rating: 8/10
Next up, we explore the world of Frosted Banana Bread Pop Tarts. These treats proved to be a sweet and flavorful surprise. Far surpassing their Apple Jacks counterpart, they delighted our taste buds with their enticing aroma and authentic banana bread taste. A definite winner, these earn a solid 8/10 rating.
Grape Pop Tarts: Rating: 3/10
Moving on to the Grape Pop Tarts, we encountered a rather lackluster experience. Their grape flavor, while recognizable, failed to impress us, resulting in a mere 4/10 rating. Some might consider them overrated, scoring a 5/10, but as grape enthusiasts, we were left disappointed.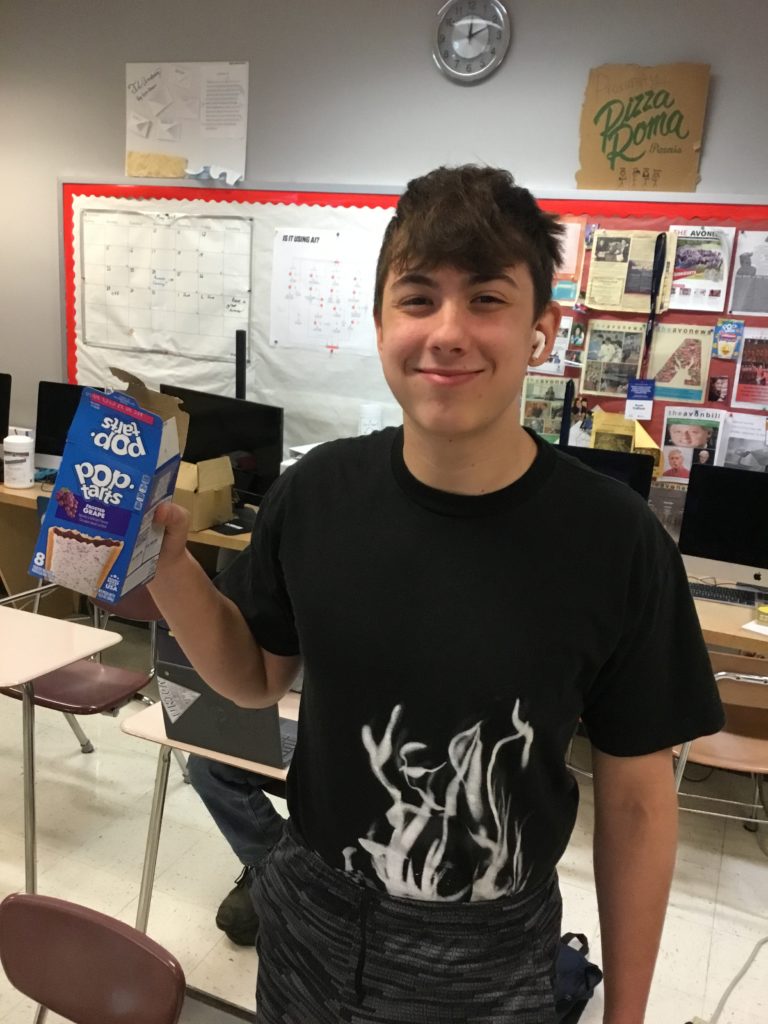 Ja Morant Dunkaroos: Rating: 7/10
Now, we venture into the realm of Ja Morant Dunkaroos, where chocolate takes the spotlight. These chocolatey snacks earned a respectable 7/10 rating. While not particularly groundbreaking, they provided a satisfying snack experience reminiscent of cookies and frosting. Currently, Morant is just as known for controversial social media postings with guns as he is leading his team into the playoffs.
IMG_4273 (see Luke dunking a DunkAroos through the AvonHoop)
Cuban Sandwich Lays Chips: Rating: 8/10
Our exploration continues with the Cuban Sandwich Lays Chips. These chips left us with a savory sensation, capturing the essence of a Cuban sandwich. Their tangy, peppery flavors tantalized our taste buds, warranting a solid 7/10.
BLT Lays Chips: Rating: 6.5/10
Next, we savor the zesty BLT Lays Chips. With a slightly tangy and peppery kick, they successfully encapsulate the flavors of a classic BLT. Although they were enjoyable, we found them to be a decent snack option, meriting a 6.5/10.
Mountain Dew Summer Flavor: Rating: 7/10
Quenching our thirst, we turn our attention to the Mountain Dew Summer Flavor, also known as MNT-DEW. This carbonated beverage received mixed reviews among our panel. While some found it to be incredibly delicious, awarding it a 10/10, others felt it was overrated, rating it a 7/10.
*** Article written by staff as well as summarized and edited by Chat GPT May 12 Version***